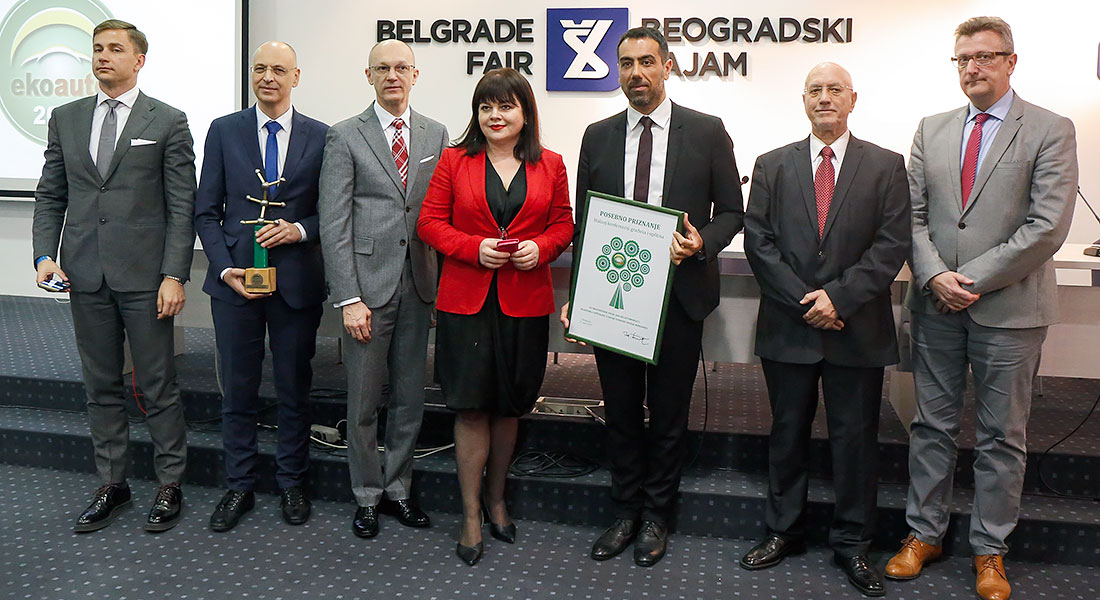 For the eight year in a row, the Chamber of Commerce and Industry of Serbia, Environmental Protection Agency, Road Traffic Safety Agency, Automobile and Motorcycle Association of Serbia, Center for Promotion of Sustainable Development and Metro Market have been organizing the selection of the best performing car with respect to environmental protection – ECO car of the year in Serbia.
Twelve new car models from the current production competed for the prize: BMW 3 Series, Citroen C4 Cactus, Ford Focus, Honda CR-V, Kia Ceed, Mercedes-Benz A-Class, Opel Combo, Peugeot 508, SEAT Arona, Suzuki Jimny, Toyota Corolla and Volvo 560. To win the prize vehicles either had to be already available or will have been available on the Serbian market by 31 March, 2019, i.e., over the course of this year's Motor Show.
The key criteria, in terms of environmental protection, complete with weight coefficients, in terms of importance were as follows: fuel consumption (30%), emissions of harmful substances (30%), recyclability (20%), noise (10%), cylinder capacity (5 %) and engine power (5%).
The expert jury assessed that the aforementioned criteria were best met by Toyota Corolla 1.8 Hybrid for which reason it won the prize for the ECO car 2019 of the year. The jury reminded us that this completely new Corolla looks much more dynamic, it is fitted with a brand new hybrid drive with a self-filling feature, which is why the new generation of the best-selling Toyota model in the entire automotive industry also marks the beginning of Toyota's strategy of double hybrids. Toyota's hybrid system is silent, intuitive, responds quickly and is fitted with a self-sufficient EV technology that does not require a charger. Maintenance costs are low, it offers great fuel savings, as well as low CO2 emissions and can withstand up to 50 percent of total daily movement. Corolla Sedan Hybrid performances, equipped with 1.8-liter aggregate, are as follows: acceleration from 0 to 100 km/h in 11 seconds and the maximum design speed of 180 km/h. The fuel consumption in Sedan version totals at least 3.4 l/100 km, whilst its CO2 emissions total only 77 g / km.
Toyota representative was presented with an award by Mr. Goran Trivan, the Minister of Environmental Protection at the Government of the Republic of Serbia. When addressing the audience, he stressed out the fact that by withdrawing the cars that pollute the environment, as well as by preventing the import of older cars (E3) poses less economic, but more serious health issue. He supported larger state subsidies and incentives for purchase of electric and hybrid cars, currently not in favor of environmental safety.
A special award was also presented to the "Standing Conference of Towns and Municipalities" for organizing the campaign "Car Free Day in Serbian Towns and Municipalities" within the European Mobility Week, which promotes alternative modes of transport in relation to motorized vehicles, and thus reduces the use of passenger cars and improves conditions for public transport, cycle and pedestrian movement.
[/fusion_text][fusion_gallery layout="masonry" picture_size="" columns="" column_spacing="10″ gallery_masonry_grid_ratio="" gallery_masonry_width_double="" hover_type="zoomin" lightbox="yes" lightbox_content="captions" bordersize="" bordercolor="" border_radius="" hide_on_mobile="small-visibility,medium-visibility,large-visibility" class="" id=""][fusion_gallery_image image="http://sajamautomobila.rs/wp-content/uploads/2019/03/msa2019_0030-1.jpg" image_id="3134|full" link="" linktarget="_self" /][fusion_gallery_image image="http://sajamautomobila.rs/wp-content/uploads/2019/03/msa2019_0031-1.jpg" image_id="3136|full" link="" linktarget="_self" /][fusion_gallery_image image="http://sajamautomobila.rs/wp-content/uploads/2019/03/msa2019_9824-1.jpg" image_id="3142|full" link="" linktarget="_self" /][fusion_gallery_image image="http://sajamautomobila.rs/wp-content/uploads/2019/03/msa2019_0075-1.jpg" image_id="3138|full" link="" linktarget="_self" /][fusion_gallery_image image="http://sajamautomobila.rs/wp-content/uploads/2019/03/msa2019_9799-1.jpg" image_id="3140|full" link="" linktarget="_self" /][fusion_gallery_image image="http://sajamautomobila.rs/wp-content/uploads/2019/03/msa2019_9945-1.jpg" image_id="3144|full" link="" linktarget="_self" /][/fusion_gallery]