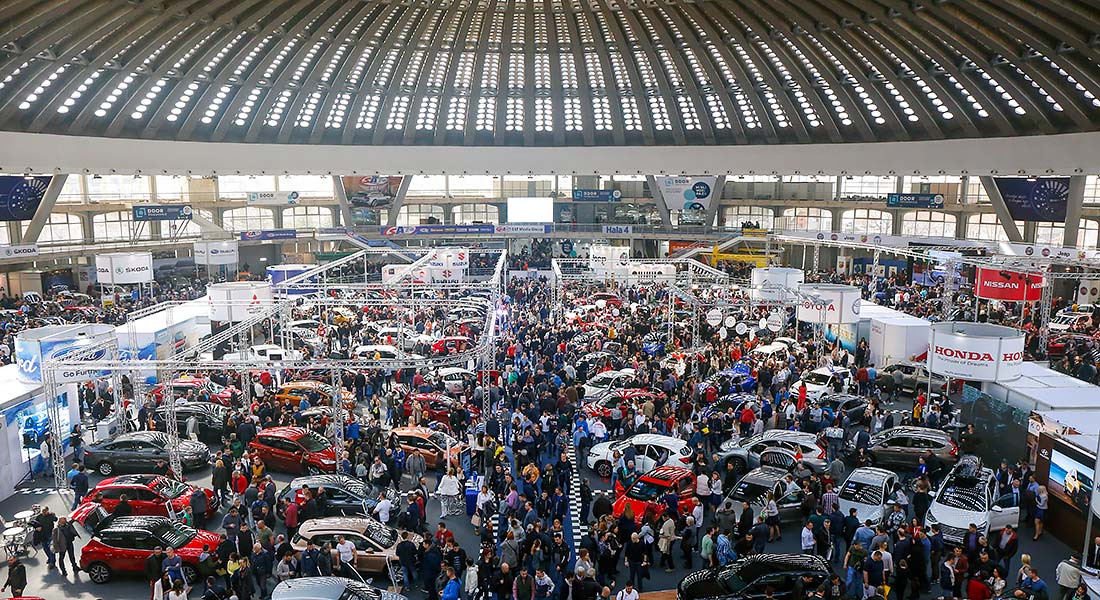 Two unique and exclusive fair events – DDOR BG CAR SHOW 07 and the 14th MOTOPASSION Motorcycle Fair – the most significant annual regional events in the automotive and moto industries are set to take place on 19 March 2020 and will last until 25 March 2020 at Belgrade Fair.
Under the slogan "Beautiful on the Outside, Strong on the Inside", this year's Car Show will be held in specific international, domestic and conceptual circumstances. At the same time, some European car shows (such as those organized in Frankfurt, Paris, Zagreb …), have either been completely abolished, or have radically reduced their exhibition capacities for various reasons, and thus have adapted to long-standing trade show concepts, whereas DDOR BG Car Show continues to confirm its persistence and is now compared with some of the fairs organized in the Far East.
On the other hand, domestic market clearly shows that 11 percent of new passenger and light commercial vehicles were sold in 2019 compared to 2018 (largely owing to 2019 Motor Show). As regards all other categories (ranging from trucks to motorcycles), sales were much better compared to previous year.
In this context, and according to current state of announcements, which have exceeded the optimistic expectations of the organizers, over 300 exhibitors from thirty countries will be taking part in the largest halls of Belgrade Fair, for which reason they will be using the entire available exhibition space showcasing more than 35 cars and 12 brands of light commercial vehicles (two more than the year before).
Motopassion 2020, organized under the slogan "All Your Passions in One Place," is also expanding – hosting more than 40 brands of motorcycles, ATVs and other motor vehicles (five more compared to year before).
Car dealers and distributors will introduce their brands in halls 1, 3 and 4 at Belgrade Fair. The exhibition of light commercial vehicles will be housed in Hall 4, as well as outdoors, whilst Motopassion exhibition will be held in Hall 2, Level C. Due to lack of space, the motorcycle equipment sector will be expanded to Level A. Special attention will be paid to electric vehicles, motorcycles and bicycles, as well as to education on motorcycle safety.
Many surprises in the premium segment have been prepared for those enjoying fast, safe and comfortable driving, as well as world-class design and innovation, above all clean technologies in the automotive and moto industries. Mercedes-Benz, Audi, BMW, Land Rover and Jaguar, vehicles that are synonymous with luxury, will be proudly showcased in Hall 3, and will fascinate car lovers and those willing to pay the most.
One of the key goals of the organizers is to increase the number of new vehicles sold, both for safety and environmental reasons. In this regard, financial and insurance companies will offer their own arrangements and benefits. Some subsidized buyers (e.g. taxi drivers) are expected to be the most satisfied with the offer. Alternative drive models will be showcased as well (hybrid, electric). Furthermore, buyers are becoming more and more interested in increasingly common and popular small city electric cars for various needs (hotels, delivery, utilities).
As regards passenger cars and motorcycles, and in response to market demands, the organizers have laid special stress on the segment of the supporting industry, which is becoming an increasingly significant part of the overall fair setup, for which reason they will occupy halls 1A, 3A, 2B and part of hall 2A.
The offer of cars, light commercial vehicles, motorcycles, garage-service equipment, spare parts, products of the accompanying automobile industry, tuning equipment will be complemented by the offer of financial institutions, insurance companies, professional organizations, clubs, associations … Many visitors will have the opportunity to use many educational and entertaining facilities, and enjoy competitive activities, driving test, sweepstakes, which will make the visit to the fairs not only informative, instructive and useful but also entertaining.
DDOR BG CAR SHOW and MOTOPASSION are also accompanied by numerous events that make the "auto-moto atmosphere" complete. Therefore, the Press Slalom Serbia 2020 will be organized in the pre-fair period, followed by the proclamation of "The Car of the Year", " The Best in the Automotive Industry" and "Eco Car 2020 in Serbia", as well as a must-see competition of "Miss DDOR BG" of Car Show and Motopassion ", all accompanied by the parade of old timers entitled" Prince Tomislav Karadjordjevic's Memorial ".
The fairs have been organized in cooperation with the Serbian Association of Importers of Vehicles and Parts, the general sponsor of DDOR from Novi Sad, and the media sponsor of SAT Media Group.
The price of an individual ticket will be charged RSD 400.00, whilst group tickets will be charged RSD 300.00. Group tickets for both pupils and students will be charged RSD 200.00, whilst parking fee will be collected in the amount of RSD 150.00 an hour.
A special fair gift for loyal visitors is Family Day that is set to take place on 24 March 2020, on which occasion a family visit will be charged at a privileged price of RSD 700.00, which is valid for children under the age of 16 accompanied by their parents.
Opening hours of the fairs will be between 10:00 and 18:00 (last day of the fair – opening hours will be between 10:00 and 19:00).