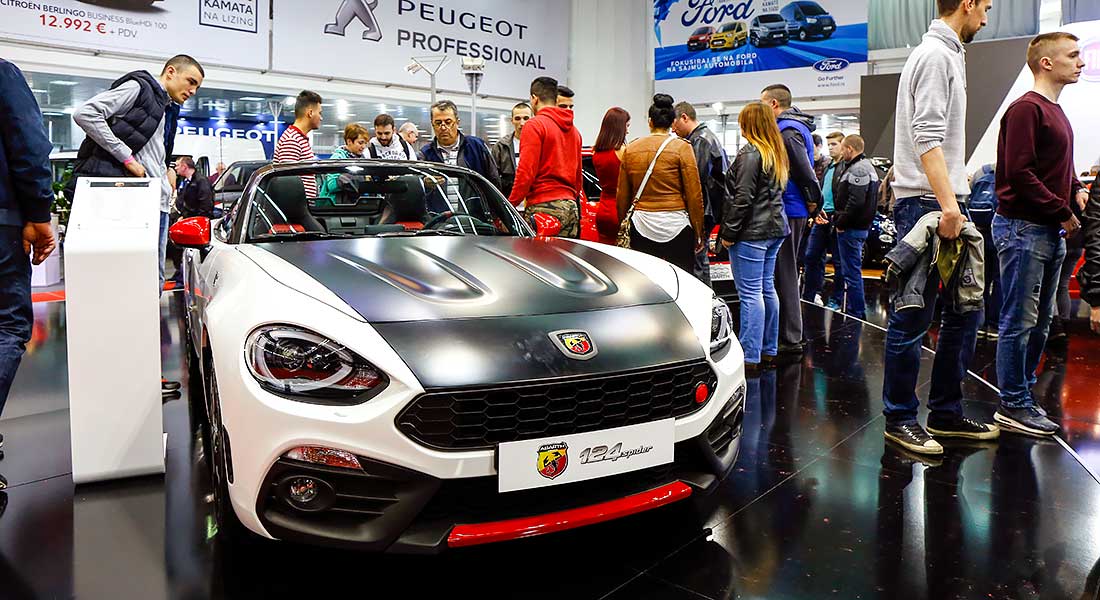 Beside the premiere featuring of the model 124 Spider Abarth, FIAT attendance of the Belgrade Motor Show is marked by featuring a whole group of models from the passenger and commercial range.
The premiere model 124 Spider Abarth is the "descendant" of the famous lightweight cabriolet from the late 1960's. The new generation was set to the platform of Mazda MX-5 and arrives with two seats, the front engine and back drive. The famous scorpion sign suggests the 170 HP 1.4 turbo engine has been used to drive and due to the weight of just slightly more than 1,000 kilograms, it enables the acceleration of up to 100 km/h in 6.8 seconds and the maximal speed higher than 230 km/h.
Among other premieres at FIAT stand, look for the crossover edition of the city small car – Panda Cross, special lifestyle version of the model 500 signed as Riva, Fullback pickup, and Talento van.
[fusion_images picture_size="auto" hover_type="none" autoplay="no" columns="4″ column_spacing="10″ scroll_items="" show_nav="yes" mouse_scroll="no" border="no" lightbox="yes" hide_on_mobile="small-visibility,medium-visibility,large-visibility" class="" id=""][fusion_image image="http://sajamautomobila.rs/wp-content/uploads/2017/03/msa17_0924.jpg" image_id="" link="" linktarget="_self" alt="" /][fusion_image image="http://sajamautomobila.rs/wp-content/uploads/2017/03/msa17_0906.jpg" image_id="" link="" linktarget="_self" alt="" /][fusion_image image="http://sajamautomobila.rs/wp-content/uploads/2017/03/msa17_0911.jpg" image_id="" link="" linktarget="_self" alt="" /][fusion_image image="http://sajamautomobila.rs/wp-content/uploads/2017/03/msa17_0926.jpg" image_id="" link="" linktarget="_self" alt="" /][/fusion_images]